A NINJA WARRIOR FACILITY FOR KIDS, FAMILIES AND ADULTS, ANNOUNCES GRAND OPENING EVENT AT ITS TOWNSHIP 5 LOCATION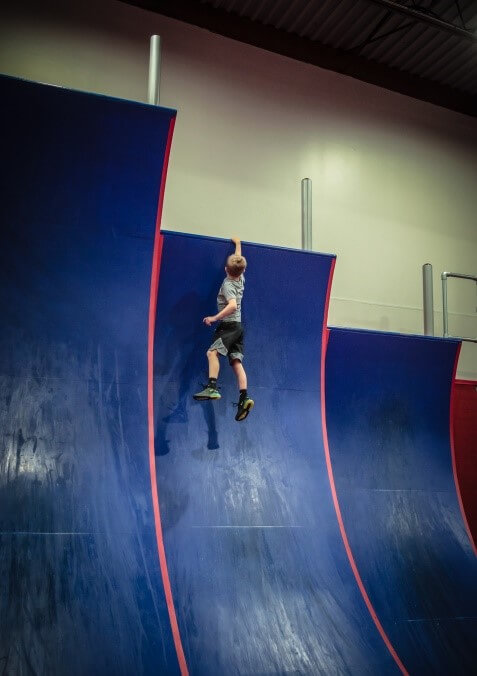 Ribbon Torching, $5 Open Play Sessions for All Ages, Cake, Prizes, Meet the Staff Including Ninjas from the American Ninja Warrior TV Show
On December 7, 2019, The Warrior Factory Grand Opening Event kicks off with a flamethrower ribbon torching at noon and continues with $5, 2hr Open Play Sessions across the weekend. With construction complete and professionally fabricated obstacles installed, the time for CNY families to experience Ninja has arrived.
What: The Warrior Factory Syracuse is ecstatic to announce the Grand Opening of their facility in Township 5 Camillus. The Warrior Factory is an interactive, state of the art facility packed with professionally designed ninja obstacles. The facility offers 4 different height warped walls for all abilities, a trampoline area, spider climb, double salmon ladder, lache lane and much more. The engaging and passionate staff focuses on safety first, while helping families come together and share in fun and confidence-building exercises. The Grand Opening Event features $5, 2 hr. Open Play Sessions. Pre-registration is encouraged as the sessions will fill up fast – register here. (https://tinyurl.com/y2mqh5cy)
These sessions are geared for all ages from 4 – 104, encouraging whole family participation.
When: Saturday December 7 at 12:00pm the festivities get underway with a ribbon torching featuring flamethrowers. Cake will also be provided to enhance the celebration. $5 Open Play Session will be offered on Saturday at 1:00 and 4:00pm and on Sunday at 11:30am, 2:00 and 4:30pm. Pre-register for the Open Play Sessions here: (https://tinyurl.com/y2mqh5cy)
Where: 170 Township Blvd. Suite 20 Camillus NY 13031
Township 5 Plaza in Camillus NY in the adjacent to The Movie Tavern between Bad Axe Throwing and Colorful Inspirations.
Why: The Warrior Factory Syracuse is a one of a kind facility poised to bring a whole new category of fun and exercise to CNY. Offering Open Plays, Parties and Classes – they are excited to invite the community in and see what they're all about! They aren't the only ones excited about the Warrior Factory! Here are some things families from Buffalo had to say about their new facility!
"The Warrior Factory has seriously changed our family dynamic for the better."
"The confidence our kids have gained is priceless."
"The obstacles our kids have learned to overcome at The Warrior Factory has translated into improvement at school, in their focus, and their relationships with friends"
About The Warrior Factory Syracuse:
The Warrior Factory Syracuse is the first franchise of this Rochester based brand. Marcellus native and owner Kathryn Bolster and her family got bit by the Ninja bug in 2017 with a chance visit to The Warrior Factory in Rochester. That visit set a series of events in motion that have them opening their own facility in their hometown. All ages, fitness levels and skill sets are welcome at TWF. They offer open play sessions (kid, adult and family), birthday party packages, curriculum classes, competitions, team building & special events. With many obstacle variations, and a space that changes daily, there will always be something new to train & try each time you visit.
Kathryn Bolster
The Warrior Factory Syracuse
315-657-7376
syracuse@thewarriorfactory.com