NOW OPEN… PHYSICIANS GROUP AFFILIATED WITH UPSTATE MEDICAL UNIVERSITY TO OPEN MEDICAL COMPLEX IN TOWNSHIP 5 IN CAMILLUS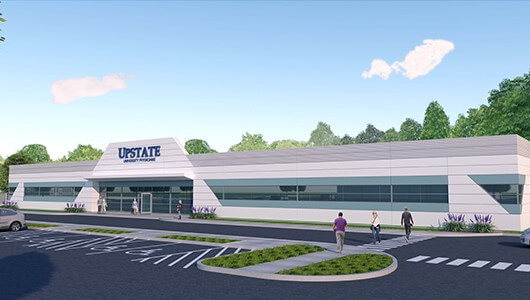 The Faculty Practice Plan of Upstate Medical University has entered into a long-term agreement with Township 5 to build a one-story 25,528 square foot, multi-specialty medical complex. The complex will be Township 5's third–largest building, behind Costco and the Movie Tavern.
The faculty practice plan physician specialties participating in this practice at Township-5 are expected to include family medicine primary care practice; cardiology, pulmonology, rheumatology, pain medicine, neurology, neurosurgery, orthopedics, physical medicine & rehabilitation, urology, featuring women's urology, ENT, vascular surgery, and psychiatry/behavioral health.
The complex will feature a full radiology imaging suite, including MR and CT, and include a physical therapy suite.  The complex also includes free on-site parking for patients.
The faculty practice plan is comprised of all clinical faculty of the Upstate's College of Medicine. Locating the practice within Township 5 will offer patient convenience to those who live or work on the west side of town.
Township 5 is an open-air center that includes shopping, dining options, entertainment, medical offices, an apartment community and a contemporary hotel.